JD1501P
                                                                       JD301BRC
                                                                       JD301A
                                                                       JD102CRC
                                                                       JD3502S
                                                                       JD502P
                                                                       JD801BRC
This page is intended to show Jolida images and prices. Images of the most current models. And MSRP Prices.
This page is intended to display Jolida Images and Prices.  We want to display current images of current models. Some photos on Jolida web site are not current.  While the prices reflect the MSRP we are willing to work hard to earn your business. Ask us what our best price is. While we are located at 216 Pearl St. New Albany, Indiana in the Louisville, Ky. area we sell all across the USA, and we are international Jolida dealers as well. We sell Jolida gear world wide. We ship worldwide. Shipping is free in the continental USA. International buyers pay actual cost of shipping via USPS Priority Mail. Always feel free to contact us by email, or phone call to discuss your interests and needs. We are always willing to answer questions, and we specialize in working with those who are new to tubes. We will not stop communicating with you until all of your questions are answered, and you are sure of what you want to buy. We are not trying to sell anything and everything to anyone and everyone. We sell very good audio gear with a focus on those who will appreciate the value of our products, and appreciate the service we will provide. We are happy to be selling Jolida Audio Gear. We are happy to be serving the international markets.
Images of Jolida Audio gear and prices (MSRP- ask for our best price). Jolida images and prices.
JD1501BRC 100wpc hybrid amplifier. MSRP = $1150. Available in silver or black. See other pages for additional details. or see www.jolida.com.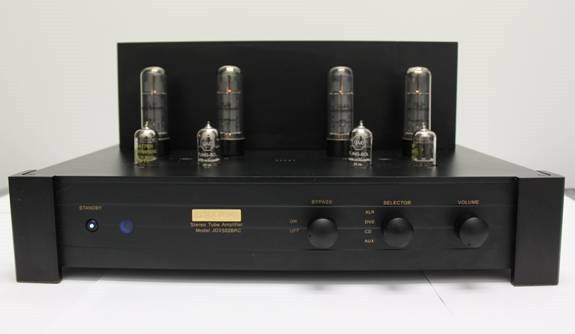 Jolida Fusion 3502 60wpc integrated tube amplifier. This amp will take either EL34 tubes, or 6550 tubes. Available in black only right now. This amplifier has ESA clarity caps, upgraded resistors, and high speed diodes. MSRP $2295;  On sale now for $1895.
JD9II phono preamp. Highly valued and reviews are excellent. Great value. MSRP = $699. Tubed.
The FX glass Tube DACIII is one of the hottest DACs in the marketplace. An excellent value. Comes in silver or black. MSRP = $525. Most all gear comes in silver or black.
The JD202BRC is a 40wpc integrated tube amplifier using EL34 tubes. Comes in silver or black. MSRP= $1199.  Real nice sound.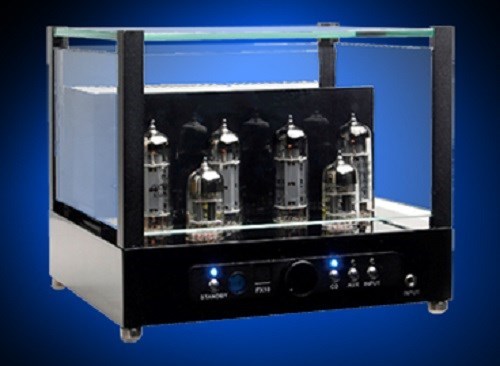 The FX Glass series integrated tube amplifier is a 12wpc amp that comes in silver or black. MSRP = $649. This is a great value. Nice for a small system. This is a 12 WPC amplifier. It is a small amplifier for a small book shelf system. Or to be used with very sensitive speakers like Klipsch. Make sure this will meet your needs before buying. Ask us.
JD801BRC
is 70wpc integrated  tube amplifier. This comes in silver, or black. See
www.jolida.com
for more details. Or see our other pages for details on amplifiers by  model.
JD502P is a 60wpc tube power amplifier. This is the same amp as the JD502CRC integrated amplifier without the preamp section. Comes in black, or silver. Using the 6550 tubes, or KT88 tubes. This amp provides rich, deep, mellow sound. REPLACED WITH FUSION 3502P. 502P NO LONGER AVAILABLE
JD502CRC is the 60wpc integrated tube amplifier offering very warm, rich, deep, mellow sound. Plenty of power, and reserve current. REPLACED WITH FUSION 3502S. 502CRC NO LONGER AVAILABLE
Fusion preamplifier. Looks a lot like the 1501 hybrid amp. This comes in silver or black. MSRP $1349.
JD5T remote control preamp for use with older amps that did not have remote control capability when made.
JD301BRC is the latest 30wpc hybrid amp with remote control capability. MSRP $499.
JD1501P power amplifier. There is also the JD1501BRC integrated 100wpc hybrid amp. This amp is 100wpc.   MSRP $1150.
JD102CRC 20wpc integrated tube amplifier using EL84 tubes. MSRP $925. Ask about deals on demos.
JD301A 30wpc hybrid amplifier, not remote control, silver only, and this one is factory upgraded level 1. Any amp can be modified before, or after purchase.
Fusion 3502S – this is a combination of the JD302CRC and the JD502CRC. This amp can handle EL34 tubes, or 6550 tubes. There is a configuration switch on the back. Comes in black or silver. Has a steel chassis. MSRP with EL34 tubes- $1675. With 6550 tubes $1799. This amplifier looks exactly like the JD302CRC or JD502CRC.
Contact Information : Brian Higdon, 812-945-5215; Bob Anderson 812-557-2497,
bob.and212@gmail.com
. Bob Anderson is the primary contact.
TUBE CAGES FOR ALL AMPLIFIERS ARE AVAILABLE. PICTURED IS THE CAGE FOR THE 502 3502 (p or s) AMP. ALL ARE SIMILAR IN DESIGN. THESE ARE HEAVY DUTY, WELL BUILT, AND FIT WELL. THE COST IS $100 FOR THE TUBE CAGE FOR THE 502 AND THE 302. $85 FOR THE TUBE CAGE FOR THE 202BRC AND $75 FOR THE TUBE CAGE FOR THE 102CRC AMP. TUBE CAGE FOR JOLIDA JD502CRC TUBE AMPLIFIER.
Thank you for reviewing our web site.    visit   http://www.usaudiomart.com/details/649159117-jolida-fx-tubed-daciii-silver-or-black-new/
Petery-Hedden Co. DBA Audio Gallery   216 Pearl St.  New Albany, Indiana 47150